Failstacking with Valenica – Black Desert Online
Warning: A non-numeric value encountered in /customers/7/9/a/urzasarchives.com/httpd.www/wp-content/plugins/mashsharer/includes/template-functions.php on line 866
Introduction
With the new +16 – +20 Enhancing Failstacks has become even more important in Black Desert Online but there is a problem with Failstacks… if you need them you do not get them and if you do not need them you get them. Thanks to that generating Failstacks can costs tremendous amounts of Silver. However Valenica finally offers a very cheap and unlimited way of Failstacking that using Reblath becomes redundant.

How does the new Failstacking work?
It is all about hunting bro! Muskets have a high chance (above +5) of failing the enchant and in addition they can drop in their enhancement level once you try to enhance +7 to +8 combining that with their very low crafting costs and their very fast crafting speed Muskets are perfect for Failstacking. Further, high enhanced Musket (when you are Lucky) sell for a very high price allowing you to decrease the overall costs for your Failstacking.
The best thing, as already mentioned, is the very easy way of producing them. A Lv2 Tool Workshop in combination with an average Worker needs between 10-15 minutes per Musket adding three Tool Workshop allowing you to produce easily more than 15 Muskets per hour. Sustaining your extensive Failstacking is secured.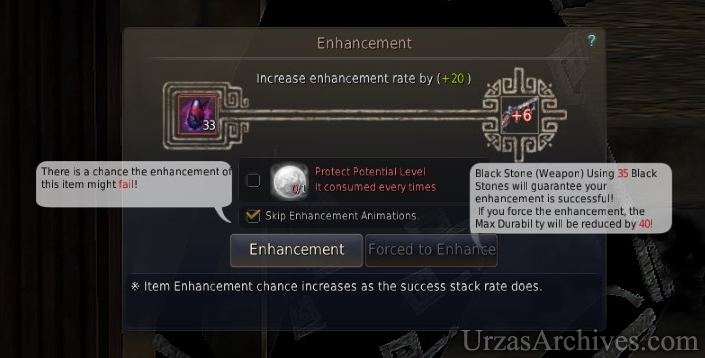 What Muskets should I craft?
In general you could use Beginner Muskets but I recommend using the Muskets that most people can use so you can yield a higher market price for them when selling a high level Musket. (Currently 2016 / 06 / 30 these are the Apprentice Muskets)
For the Apprentice Muskets you just need:
1x Fir Timber ~1,000 Silver
4x Steel ~5,000ea Silver > 20,000 Silver
1x Brass Ingot ~10,000 Silver
3x Blackstone Poweder ~2,000ea Silver > 6,000 Silver
Total Cost: ~35,000 – 40,000 Silver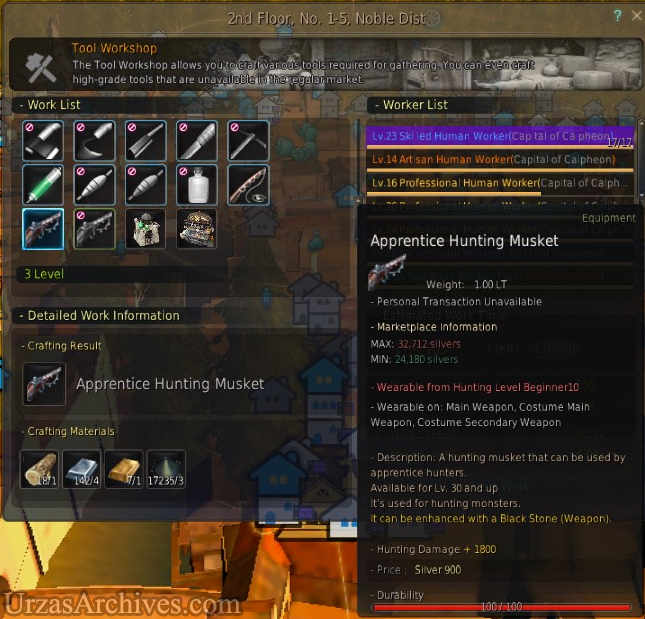 A +8 Apprentice can already be sold for around 19 million Silver.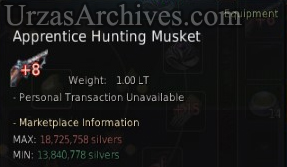 I hope I could help you! Good Luck on your Failstacking (or should I say bad Luck on enhancing ;))